Book :
The Adventures of Tom Sawyer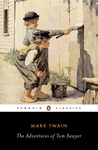 I haven't published any notes or reviews on this book yet.
The Adventures of Tom Sawyer is the first of Mark Twain's novels to feature one of the best-loved characters in American fiction, with a critical introduction by John Seelye in Penguin Classics. From the famous episodes of the whitewashed fence and the ordeal in the cave to the trial of Injun Joe, The Adventures of Tom Sawyer is redolent of life in the Mississippi River towns in which Twain spent his own youth. A sombre undercurrent flows through the high humour and unabashed nostalgia of the novel, however, for beneath the innocence of childhood lie the inequities of adult realitybase emotions and superstitions, murder and revenge, starvation and slavery. In his illuminating introduction, noted Twain scholar John Seelye considers Twain's impact on American letters and discusses the balance between humorous escapades and serious concern that is found in much of Twain's writing.
225 pages