Book :
The Diary of Adam and Eve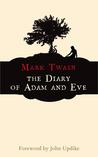 I haven't published any notes or reviews on this book yet.
Librarian Note: There is an Alternate Cover Edition for this ISBN here, This is Mark Twain's imaginative series of diary entries by Adam and Eve. At first, Adam is puzzled by this new arrival, Eve, in the garden, and he is suspicious of her disturbing appetite for fruit. Eve, believing herself to be some sort of experiment, is curious about another experiment in the garden, perhaps some sort of reptile or possibly architecture. Eve gives names to everything, much to Adam's annoyance. He tries to ignore her, so she seeks companionship among the animals particularly with a certain snake. Adam and Eve grow to love each other and, in the end, an elderly Adam is filled with a realization of that love as he stands at Eve's grave.
95 pages